← Mahoney Heating and Plumbing
Special Offer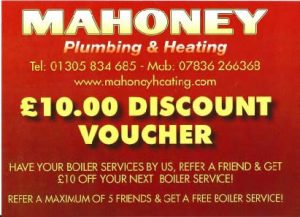 Receive a £10 discount on your next boiler service if you recommend a friend to have their boiler serviced by us and we carry the work out.
Recommend up to 5 friends/referrals and get a free boiler service.
1 Referral = £10.00 off next service
2 Referrals = £20.00 off next service
3 Referrals = £30.00 off next service
4 Refferals = £40.00 off next service
5 Refferals = Next Boiler service free of charge
At the same time let us give you our free expert advise on how to upgrade your central heating system to save you money.
← Mahoney Heating and Plumbing
Payment Methods

We now accept all major credit and debit cards;

We also accept which can be paid online